L'Institut David Weissman au Centre Bronfman de l'éducation juive
~ Disponible en anglais seulement ~
Bamidbar: A Nation Grows Up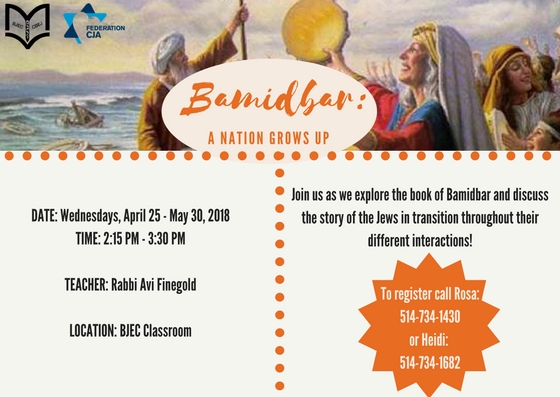 DATE/TIME: Wednesdays, April 25 to May 30, 2018; 2:15 to 3:30 p.m.
LOCATION: 1 Cummings Square, 5th floor, BJEC Classroom
TEACHER: Rabbi Avi Finegold
The book of Bamidbar is the story of a nation in transition. The Jewish people feel their peoplehood, but have not yet fully grown into it.
Join us as we explore the narrative of the Israelites in the desert, developing into a people that will enter into the Land of Israel. We will explore the story of the spies, Korach's rebellion, Miriam and the women's influence, as well as the interactions between God and Moses.
Let's relate the lessons of Bamidbar to what is happening in the Jewish world today. What can we learn from next?
Biographical Notes – Rabbi Avi Finegold
Avi Finegold is a Montrealer who received his rabbinic ordination more than 10 years ago. Until 2013, he worked in adult Jewish education in Chicago, where he taught in the Florence Melton Adult Mini-School and was a guest lecturer at different congregations there.
When he returned to Montreal, he founded the Jewish Learning Lab – creating curriculum and educational plans for Jewish organizations. He also creates programs specifically for adults, to assist the learner in progressing in their Jewish educational world.
Rabbi Avi Finegold is presently the Rabbi at the Spanish and the Portuguese Congregation and is the founder of the Jewish Learning Lab, an adult education institute in Montreal.
We are delighted that Rabbi Avi Finegold will be returning to the David Weissman Institute this spring.