The David Weissman Institute at the Bronfman Jewish
Education Centre
Unheralded Characters of the Bible
DATE/TIME: Wednesdays, October 16 to November 20, 2019; 2:15 to 3:30 p.m.
LOCATION: 1 Cummings Square, 5th floor, BJEC Classroom
TEACHER: Rabbi Avi Finegold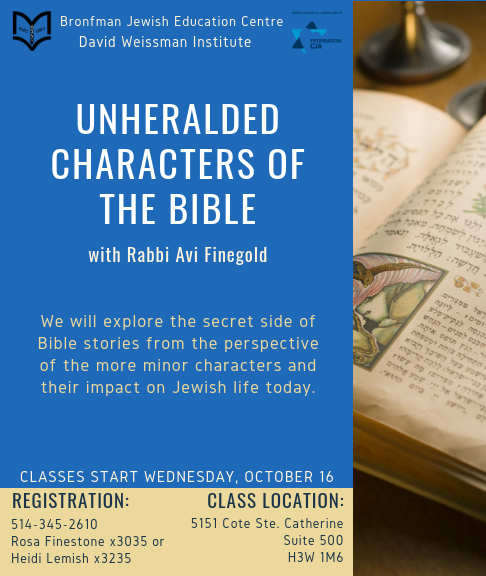 The Bible is filled with larger-than-life figures like Abraham and David, but filling out the story are often small, but significant roles like Hagar or Hulda (among others, both men and women) that we often gloss over.
Join us as we explore the secret side of Bible stories from the perspective of the more minor characters and their impact on Jewish life today.
Biographical Notes – Rabbi Avi Finegold
Avi Finegold is a Montrealer who received his rabbinic ordination more than 10 years ago. Until 2013, he worked in adult Jewish education in Chicago, where he taught in the Florence Melton Adult Mini-School and was a guest lecturer at different congregations there.
When he returned to Montreal, he founded the Jewish Learning Lab – creating curriculum and educational plans for Jewish organizations. He is also creating programs specifically for adults, to assist the learner in progressing in their Jewish educational world.
Rabbi Avi Finegold is the lead educator at the Jewish Learning Lab, which is attracting a wide range of students of all ages.
We are delighted that Rabbi Avi Finegold is returning as a lecturer at the David Weissman Institute.
Archives of old programs can be found here